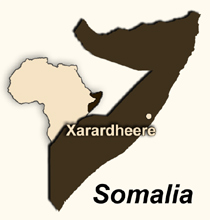 Members of the al-Shaabab Islamic militant group killed Yusuf Ali Nur, a 57-year-old primary school teacher and underground church leader, on May 4 in the town of Xarardheere, Mudug region, Somalia. The militants, who were battling a rival rebel group to take control of the area, were going from house to house looking for enemy fighters when they arrived at the home of Yusuf, whom they suspected of being a Christian. They shot him multiple times at close range. Yusuf is survived by his wife and three children, ages 11, nine and seven.
Al-Shabaab, which is linked with al Qaeda, has reportedly vowed to rid Somalia of Christianity. Several Christians throughout Somalia have been targeted by the group in execution-style murders in recent months, including a man who was killed in late March (click here for more information). (Source: Compass Direct)
Pray that Yusuf's loved ones will trust in their Father's unfailing love (Psalm 13:4). Pray that Yusuf's legacy will embolden other believers to walk a path of steadfast faithfulness, even amid great adversity. Pray for encouragement and strength for members of the Somali Church.
For more on the trials Christians face in Somalia, click here.