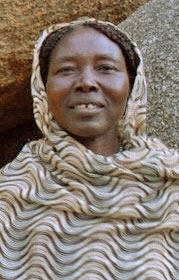 Neima Abiad Idris
A Christian wife and mother of six was killed in November of 2014 when an Antonov bomb struck her home village of Kadir in the Nuba Mountains. She is being hailed as a hero and martyr for refusing to run away from the genocidal terror that had targeted her family and community. Christians in the Nuba Mountains face poverty and violent assaults as Arab-Sudanese aim to eradicate the black Sudanese population.
Neima Abiad Idris, 49, was known as the "Peace Singer." Her most recent musical album was called "Building Peace, Forgiveness and Reconciliation," and served as her prayer and aspiration for the Nuba people. The victimized Sudanese believers are now grieving along with Neima's family, but take comfort in the knowledge that she is now experiencing true peace in heaven.
Also last November, a church in the Nuba Mountains was destroyed in a bombing incident that took place during a worship service. Thankfully, the congregation had fled the building soon after hearing planes overhead pass several times, and so no one was injured in the attack. The area was bombed again just days before Christmas. VOM USA works closely with this congregation, which has served as a distribution point for Bibles and relief items. Several frontline workers have also been supported through the compassionate outreach of this church.
Let us bring our persecuted family members in the Nuba Mountains to our Heavenly Father, asking Him to bless them with courage and endurance as they suffer ongoing oppression. In particular, pray for the many who are mourning the loss of Neima. May they rejoice over the fact that she knew the 'Prince of Peace,' and is now living life to the fullest in heaven with Him. Also, may God continue to use her musical ministry to encourage other believers living in this dangerous war zone. Finally, pray that our Lord will be especially near to the congregation members whose church was bombed -- granting them wisdom, boldness and perseverance as they seek a new venue to worship Him together.
Please visit our Country Report to learn more about Sudan's persecuted believers and the various ways you can pray for them.