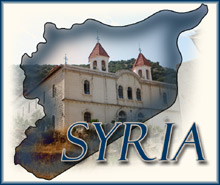 Fears for the safety of Syria's Christian population have been on the rise amid the "Arab Spring" -- the pro-democracy uprisings sweeping the Middle East and North Africa since March. The Syrian regime is allied to Shia Iran and Hezbollah; however, the nation's population is 90 percent Sunni Arab, adding to fears that intense sectarian conflict similar to that in Iraq could arise in the country. (The two predominant sects of Islam are Sunni and Shia. A majority of Muslims is Sunni with the smaller percentage of Shia Muslims living in Iran and Iraq.) If such a struggle ensues, Syria's 1.4 million Christians (6.3 percent of the population) could be in the same vulnerable, threatened position as Iraq's now almost annihilated Christian community, especially if the current regime under President Bashar al-Assad loses control. (In fact, Syria hosts hundreds of thousands of Assyrian and Chaldean Christian refugees from Iraq.)
Consequently, Syrian Christians are maintaining a very low-key approach both politically and religiously. They kept their observance of Easter very quiet this year, cancelling traditional public processions and celebrations. The on-going riots have not been sectarian yet, being rooted in grievances that are social (repression and inequality) and economic (unemployment plus massive fuel and food price hikes).
Ask God to embolden, comfort and encourage all Syria's Christians with His presence. Pray followers of Christ in Syria will be a strong witness to their family, friends, neighbours and their oppressors, seeing the current unrest as an opportunity to evangelize.
To learn more about the trials facing Christians in Syria, visit the Syria Country Report.