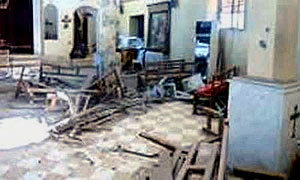 Churches were vandalized, looted and graffitied
with insults against Christianity.
Photo: Barnabas Aid

Dozens of people were killed when Islamist rebels besieged the Christian town of Sadad (northeast of Damascus). Thousands fled the violence, many with just the clothes on their backs. Those who took money, documents or other valuables were robbed. Homes, businesses, schools and other public buildings, including a hospital, were looted and destroyed; church buildings were attacked and graffitied with insults against Christianity.
Members from an al-Qaeda-linked group stormed Sadad on October 21st shouting "Allahu Akhbar" ("Allah is great"). They set up sniper posts and launched a campaign of shelling, killing anyone they found on the streets. Children were crying in fear as the militants took over the town.
Reportedly, government forces had recaptured Sadad on October 28th, enabling the citizens to return to their homes. However, the surviving victims of the attack arrived to a scene which was described as "catastrophic." Almost 40 bodies had been dumped in mass graves and had to be dug up to be identified. About half of the buildings in Sadad had been destroyed; and there was no power, water or telephone connection. These suffering believers greatly need our prayers....
In the midst of so much devastation and loss, may the Christians of Sadad and other attacked Syrian communities be greatly comforted. Pray that God, who understands their plight, will intervene mightily on their behalf, providing all that is necessary to rebuild their lives and communities. On behalf of these Syrian believers, please also pray that the 'Angel of the Lord' would encamp around them (Psalm 34:7), protecting them and their loved ones from any further attacks while quieting their troubled hearts with the 'peace that surpasses all understanding' (Philippians 4:7).
To view a four-minute video clip on the attack of Maaloula, another neighbouring Christian town located near the city of Damascus, please click here.