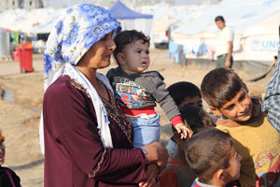 VOM is distributing practical and spiritual aid.
On Saturday, July 4th, an Iraqi Franciscan priest, Fr. Dhiya Aziz, was abducted by militants in Yacoubieh, Idlib province, which is located in northwest Syria. The area is presently under the control of Jabhat al-Nusra, a terrorist group with links to al-Qaeda. Thankfully, more recent reports indicate that he has since been safely released.
However, prior to the abduction, advances by Islamic State terrorists took place in the northeastern Syrian city of Hasaka on June 24th. This has resulted in further mass displacement of refugees, including Assyrian Christian families who had sought refuge in the city just this past February.
Christian leaders in the Middle East are now calling for renewed and urgent prayers for peace. Some feel frustrated by what they perceive as lack of support from the church in the West. Patriarch Louis Sako of Baghdad recently stated, "We feel forgotten and isolated."
Please uphold our Christian brothers and sisters in the Middle East who are under mounting pressure from Islamist terrorists. Ask our Almighty God to continue strengthening His dedicated servants as they provide needed relief to the tremendous number of displaced refugees in this part of the world. In keeping with our Lord's desire for all humanity, may there be an end to the violence and bloodshed so that His love and peace can reign supreme -- not only politically but, most importantly, in the hearts of those He so lovingly created.