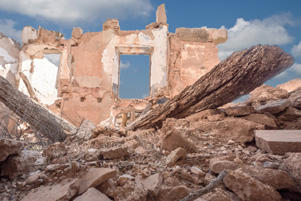 As the Turkish military, along with allied Syrian rebels, continue their operation against Kurdish forces in northern Syria, Christian communities are concerned about the repercussions that may follow. While the campaign is not religiously motivated, believers in the region face particular vulnerabilities.
Christian leaders are especially concerned about Islamist elements within the attacking troops who have hostility toward anyone not following Sunni Islam. With reports of detained ISIS terrorists being released, there are also remembrances of the horrific violence that took place when the militants were in control. There is also apprehension that as militant Islamist elements attempt to retake power in the region, ISIS will be able to rebuild in the region -- posing the risk of Christians once again being targeted.
Since the United States withdrew all troops from the region, allowing the Turkish offensive, thousands of Kurds have been displaced. Relief organizations from around the world are seeking how to best assist them in the midst of this volatile situation. More information on the persecution facing Christians in Syria is available here.
To view a short video clip produced by an organization that's appealing for prayer on behalf of the country's vulnerable Kurdish believers, click here.
Please prayerfully uphold the thousands of Kurdish Syrians who've been torn from their homes through this invasion. Also lift up the many other Christ-followers in this country who are now facing fear of the unknown in the days to come. Pray that international pressure will be placed on Turkey to cease their actions, and that all humanitarian efforts to assist Syria's innocent citizens will be effective in providing both spiritual support and practical aid.