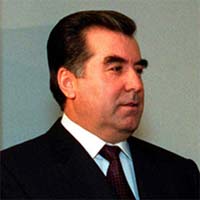 President Emomali Rahmon
A restrictive draft religion law was sent by Tajikistan's President Emomali Rahmon to the parliament for approval on November 19, according to a report from Forum 18. The draft law allegedly restricts the activity of religious organizations, limits religious education, and imposes state censorship over religious literature. If the law passes, religious organizations currently registered would be forced to re-register by July 1. However, the draft law's stringent requirements would make it difficult for some groups to continue to qualify for registration.
Pray that this law will not pass parliament. Ask God to work in the lives of Tajikistan's leaders so that they too will turn to Him.
To learn more about the persecution of Christians in Tajikistan, go to the Tajikistan Country Report.