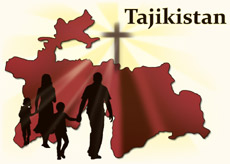 Tajikistan's Parliament may adopt a restrictive Parental Responsibility Law, drafts of which ban children from attending religious activities apart from funerals. The latest text of the proposed law has not been made public -- even though it is being discussed in parliamentary committees. It may be adopted by July, even though drafts of the law -- which was initiated by President Emomali Rahmon -- break the Constitution and international human rights standards. Local religious communities, independent legal experts and human rights defenders have condemned the draft, but Deputy Marhabo Jabborova, chair of a parliamentary committee leading discussions, told Forum 18 that he "is not aware of any comments from religious communities."
Pray God will enable Christian parents to demonstrate an unwavering commitment to Christ so that their children will be encouraged to walk closely with the Lord as they grow up (Deuteronomy 11:18-20, 2 Timothy 1:5). Pray the people of Tajikistan will be granted religious freedom.
To read more about religious restrictions in Tajikistan, visit the Tajikistan Country Report.