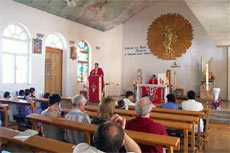 New restrictions ban children from
attending church in Tajikistan.
Photo: AsiaNews
The Upper Chamber of Tajikistan's Parliament recently adopted two legal measures that will further restrict religious freedom, particularly the religious education of children. On July 21, a new Parental Responsibility Law was passed, banning almost all children under 18 from participating in religious activity. At the same time, an amendment to the Criminal Code was passed to punish organizers of "extremist religious" teaching -- an unidentified concept that could easily be applied against Christian leaders.
Both of the new legal measures -- which still need to be signed by President Emomali Rahmon to come into force -- come just two weeks after an amendment made to the country's Religion Law decreed tight restrictions on religious education abroad for children and adults.
Pray for an end to restrictions on religious freedom in Tajikistan. Ask the Lord to continue to equip believers to make the most of every opportunity to share their faith. Pray for wisdom for all believers in the nation as they serve Christ and witness to those who do not yet know Him as Lord.
To find out more about the trials facing Christians in Tajikistan, go to the Tajikistan Country Report.