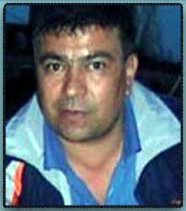 Pastor Nurliev has been
imprisoned since August 2010
Family and friends of Pastor Ilmurad Nurliev were disappointed in late August when the president did not include the pastor in what has become an annual amnesty of prisoners. Pastor Ilmurad was arrested at his home in Mary in south-eastern Turkmenistan on August 27, 2010. He was charged with extracting money from three people -- an accusation his wife, Maya, and fellow church members strongly deny (for more, please go to www.vomcanada.com/tm-2010-10-28.htm).
A friend of the family told Forum 18 that Maya is "so disappointed" that her husband was not released and that "she sits at home and cries." Family and friends were heartened, however, to hear that the pastor has finally been treated for his diabetes for the first time since his arrest. Maya has been able to visit her husband on approved visiting days.
Please continue to pray for Ilmurad's release. Pray for comfort for Maya while her husband is in prison. Pray that, as they suffer, they will rely on the Lord's strength and not on their own (2 Corinthians 1:8-9). Pray that many more in Turkmenistan would come to faith in Jesus Christ.
For more on suffering believers in Turkmenistan, please visit the Turkmenistan Country Report.