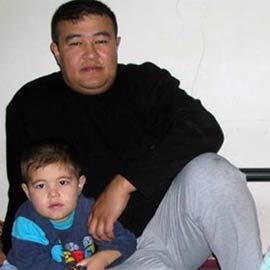 A prisoner who was charged disproportionately because of his Christian faith has been released from prison after nearly three years behind bars. Umid Gojayev, 32, was freed through prisoner amnesty on February 17th. Turkmenistan's president signed a decree initiating the amnesty to mark the country's celebration of Flag Day.
The Christian man is now required to report to the local police on a weekly basis. Umid, who was charged with hooliganism in April of 2012, had been sentenced to four years in a labour camp. (For more information on his arrest, you can read a previous prayer alert.) After his release, Umid boarded a train for the two-day journey from Ashgabad to return to his wife and three young children in the northern city of Dashoguz.
Thank the Lord for this wonderful answer to prayer! May Umid's home now be filled with praise and rejoicing as his family enjoys being reunited at last. Pray that this trial will truly be over for Umid so he can live out his faith in freedom. Also ask the Lord to continue blessing the ministry of the church in Turkmenistan, equipping His people there to be 'salt' and 'light' among those who do not yet know Him.
For more information on the trials our Christian family endures in Turkmenistan, read our Country Report.