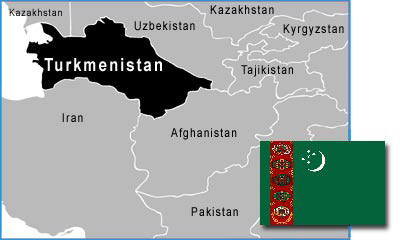 On Sunday, September 23, police and other unidentified officials raided the home of a Baptist family in the northern city of Dashoguz during a church meeting. The owner of the home, 77-year-old Begjan Shirmedov, was dragged from the house by his collar. About 15 church members were questioned and religious literature was seized. When Begian's wife, 68-year-old Kerime (Klara) Ataeva, complained about the mistreatment, authorities beat her hands until they bled.
Earlier that month in the same city, police raided a religious meeting at a private home. Three Christians were fined after being found guilty of violating the "law on religious organizations." The charge carries a punishment of fines of between five and 10 times the minimum monthly wage for refusing to register a religious community or for participating in an unregistered religious community. One of the fined Christians, Oleg Piyashev, was visiting Turkmenistan from Russia at the time of the raid. A Russian and Turkmen citizen, he was later banned from leaving Turkmenistan at the airport on September 23.
Please pray for complete healing and restoration for Begjan and Kerime. Pray the Lord will give them and the other church members the strength to overcome their ordeal and the determination to continue to stand firm. Pray that they, and other Christians facing opposition, will continue to meet together to encourage one another. Pray Oleg will lean on the Lord's strength during this time, and pray that he will have an opportunity to return to his homeland.
Go to the Turkmenistan Country Report to learn more about our suffering brothers and sisters in Turkmenistan.