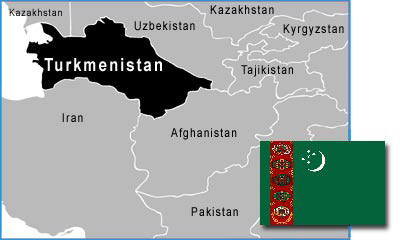 A Christian leader from Galkynysh in Lebap Region was recently fined two weeks' average local wages following a police raid. The authorities stopped Narmurad Mominov just as he left the home of a Christian family he had been visiting. Narmurad was ordered to stay at the home, where he and the other believers were forced to write statements confessing of their involvement in a religious meeting. During the subsequent search of the hosting family's home, a New Testament was found in one of the rooms. The officers demanded to know where the homeowner had obtained the Scriptures.
All of the Christians were held until 2 a.m. the following morning, including children as young as two years old. Later that day, the detained believers were again summoned and pressured to write statements, this time indicating the abandonment of their faith and a promise to no longer attend religious meetings. Most refused to do so. After making further threats to no avail, officials finally relented and allowed the Christians to leave. However, the officers then decided to bring forth cases against both Narmurad and the homeowner. Although Narmurad was fined on February 27th, the homeowner's case has not yet been brought to trial.
Narmurad has previously been fined for his religious activity. Pressure was also placed on his parents (who are not church members), demanding they remove Narmurad and his wife, as well as the accused's five children, from the family home. One winter, essential utilities such as electricity, gas and water were cut off in a bid to force his parents into cooperating with the authorities' demands.
Please bring our brother Narmurad to the Lord in prayer, asking that he be granted extra strength and courage during these days of trial. Pray that God will also provide the funds necessary to pay the recently acquired fine, and that the homeowner will be acquitted of any perceived wrongdoing. Despite restrictions and the threat of fine or imprisonment, may the church in Turkmenistan flourish and bear much fruit.
For more information on Turkmenistan's persecuted church, visit our Country Report.