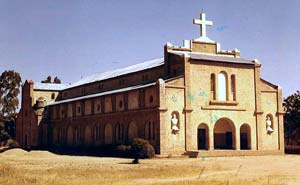 Pray for the safety of churches in Tanzania.
Photo: Flickr / Sherwood
Three churches have been set on fire within the past month in an area near Lake Victoria of northern Tanzania. While there was substantial damage made to all three churches, thankfully no one was killed.
In the latest of the arson strikes, a church in Kyebitembe (located in the Kahororo ward of Bukoba municipality) was set alight on March 12th. Two days earlier, intruders attacked a church in Kagondo ward, burning Bibles, benches and robes. Prior to these two incidences, a church within the Rulongo-Kanazi parish was set ablaze.
A contact from VOMC's sister mission in the United Kingdom has recently reported on an isolated attack against a church in Bukoba in which a Christian man was tragically killed, leaving behind a distraught widow and two children.
Please uphold our vulnerable brothers and sisters in northern Tanzania, asking God to keep their hearts in perfect peace while granting them the courage to stand firm in their faith. May He also greatly comfort the grieving family members and friends of the innocent Christian man who was killed in Bukoba. Additionally, pray that those who were responsible for these latest attacks will be brought to justice and given the opportunity to experience forgiveness and salvation through Christ's death and resurrection.