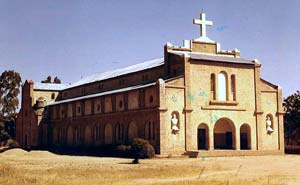 Pray for the protection of
churches in Tanzania.
Flickr / Sherwood (cc)
Three churches in northwest Tanzania were set ablaze on September 22nd by militants, causing everything inside them to burn. Fortunately, no one was injured. "What is worrying us is that the burning of the three churches happened within a span of two hours," states Pastor Vedasto Athanas of Living Water International Church. "What is even more worrying is that we have been receiving threats from Muslim extremists that they want churches reduced in this area."
These attacks have come at a time when the church in Tanzania is experiencing extreme growth. The resulting destruction leaves about 850 Christians without their places of worship. "We have lost everything in our churches -- the buildings, the chairs and musical instruments," the pastor added. "Our members have nowhere to worship. We do request prayers at this difficult moment."
This is not the first time that Tanzanian Christian churches have been burned by extremists. In January, a church building in the Muheza district was also set on fire. Additionally, a woman in this district who converted to Christianity after marrying her Christian husband was beaten and burned by her Muslim parents late last year.
As Christians make up about 54 percent of the Tanzanian population, the country's 31 percent Muslim population has largely been tolerant of Christian practices until a recent polarization between moderate and radical Muslims, according to Operation World.
First of all, may God minister His perfect peace to the congregations of these churches after the destruction and upheaval they've recently experienced, restoring to them all that the enemy has destroyed. And may He not only minister to the Christians of these communities but also to the perpetrators of the violence, convicting them of their sin and need of salvation. We pray that greater blessing will be poured out upon His people in Tanzania as they continue letting their lights shine brightly so that many others will clearly discover the Way, the Truth and the Life! (John 14:6).