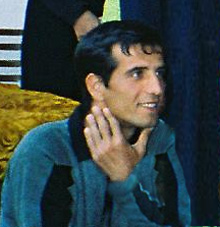 Photo from International Council of Churches of Evangelical Christians/Baptists
In early March, a 27-year-old Christian man, Tohar Haydarov, was arrested on charges of producing or storing drugs and subsequently sentenced to 10 years in prison (
click here
for the full story). Local Christians insist that police planted the drugs on Tohar and that the case was fabricated against him in order to punish him for his religious activity. Members of his church have also described him as "a man with a pure conscience and an honest Christian." At last report, Tohar had appealed his sentence, but the outcome of his appeal was not yet known. (Source: Forum18)
Pray for strength for Tohar in the face of injustice and oppression. Pray that he will be released and the charges against him will be dropped. Pray that Uzbek believers will be encouraged by the Spirit of the Lord to proclaim their faith confidently, even to their persecutors.
You can encourage Tohar today by writing him a letter online, in his own language, at www.PrisonerAlert.com. You can also download VOM's letter writing guide, "Doing Time For God," which equips you to write to prisoners of faith around the world. You can download the guide for free at our Advocacy page.
For more on the persecution of Christians in Uzbekistan, go to the Uzbekistan Country Report.