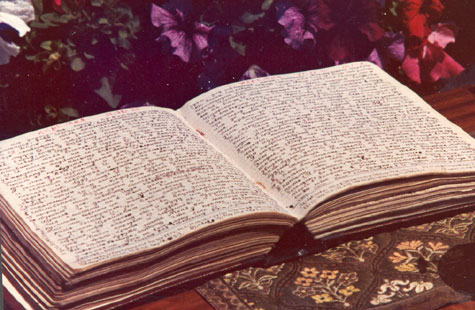 Bibles and other literature were confiscated during the raid.
Uzbekistan continues to raid people exercising freedom of religion or belief without state permission. On December 1st, police raided a group of about 80 Protestants who were on holiday together at the Simurg (Phoenix) resort in the Bostanlyk District of Tashkent Region. Charges under six different articles of the Code of Administrative Offences have been brought against four of the group who were meeting together to discuss their faith and sing Christian songs. During the raid, three Bibles and 100 Christian songbooks were confiscated. Witnesses say police "insulted the believers with abusive words...and threatened that they could bring criminal charges against the believers unless they wrote statements." Fingerprints were taken of all present.
When asked why the authorities would punish people whose only "offence" was to read their Bibles and sing Christian songs on holiday, a police representative stated that people "must do it only in registered places specifically set up for religious purposes." The officer then declined to comment further on why police violate the right to freedom of religion or belief. "I am not authorized to give more comments," he said.
In November, three Protestants were fined sums of between 20 and 100 times the minimum monthly wage for meeting together, reading their Bibles, singing Christian songs, praying and possessing religious books. All of these books, including Bibles, were ordered to be destroyed. For more on how Uzbekistan's political system is oppressing Christians, go to the Uzbekistan Country Report. You may also want to read how it has affected the lives of other believers: click here for more information.
As Canadian believers in a country founded on Christian principles, may we never take for granted the privileges of being able to freely read the Bible, meet with fellow Christians, and sing songs of praise and worship – without concern of police arrest, heavy fines or imprisonment. Pray that the Church in Uzbekistan will one day be able to experience such blessings. Ask the Lord to place God-fearing leaders in all levels of government and, as a result, bring about positive change to the country's legislature concerning freedom of religion. In the meantime, pray that these believers will be strengthened and encouraged to keep living for Jesus.