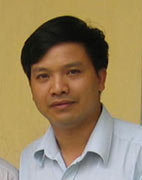 Nguyen Van Dai
Lawyer for the "Mennonite Six"
After a four-hour trial on May 11, Nguyen Van Dai and Le Thi Chong Nhan, two Christian Lawyers facing accusations relating to their defense of religious freedom (
click here
for more information), were convicted of "propagandizing against the Socialist Republic of Vietnam." According to a May 16 report from Compass Direct, Dai received a sentence of five years in prison and four years of house arrest. Nhan was sentenced to four years in prison and three years of house arrest. Both of them are expected to appeal to the People's Supreme Court, which is the last court of appeal in Vietnam.
In the weeks leading up to the trial, the state media made several accusations against the lawyers, including allegations that they compiled "evidence of Vietnam's suppression of the Protestant religion" and cooperated with terrorists in their efforts to promote human rights. These and other accusations were posted on the Vietnam News Agency website one day prior to the trial date.