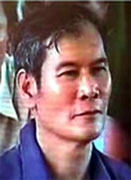 Father Nguyen Van Ly (63), who suffered a severe stroke on November 14 (click here for more), was sent back to a Vietnamese prison on December 12 after several weeks of treatment in a hospital. According to Father Van Ly's sister, "His situation is a bit better now, but his life is not normal yet. We don't know why they decided to transfer him back to prison, as he still needs help." At last report, he was half-paralyzed on the right side of his body and was only able to walk a few steps with a walking stick. (Source: AFP)
Pray for continued healing for Father Van Ly in prison. Pray that he will be released from detention. Ask God to give him the strength in his weakened condition to continue showing Christ's love to others.
Learn more about the plight of Vietnamese Christians at the Vietnam Country Report.