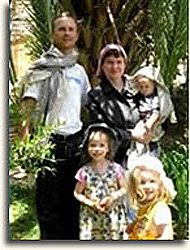 Continue to uphold the
Hentschel family in prayer!



December 12, 2011, marked two-and-a-half years since the kidnapping of nine foreigners in Saada, north-west Yemen, three of whom were murdered shortly afterwards (for more, click here).
There continues to be no news of Johannes and Sabine (a German couple), Simon (their son, age 3) or of Tony (a British man). Lydia and Anna (7 and 5, daughters of Johannes and Sabine) who were freed in May 2010 are with relatives in Germany and are reported to be in good health. It is reportedly a challenge for these relatives to function as Lydia and Anna's parents in light of their unique needs and in the context of the other children in their home.
Christians close to the situation are hopeful that the recent agreement to transfer power from President Saleh to the Vice President and the formation of a unity government may lead to the release of information about the four missing foreigners. These political changes have not yet led to much positive change in the country as a whole, and protests and violent clashes continue in many parts.
Pray that the missing four, assuming they are alive, will know the peace, presence and daily provision of Jesus and will be released unharmed. Please pray that the families and colleagues of those missing and murdered will know the peace of Jesus amidst continuing uncertainty. Pray that the perpetrators will be convicted by the Spirit and drawn to the forgiveness, love and true life offered by Jesus.
For more information on persecution in Yemen, go to the Yemen Country Report.