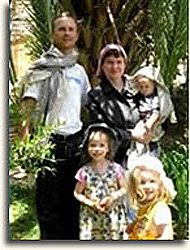 The Hentschel family
In recent years, we have requested prayer for nine Christian foreigners who were kidnapped in Saada. Abducted by armed assailants in June of 2009 were Johannes and Sabine Hentschel (a German couple), along with their three young children, Simon, Lydia and Anna; Tony (a British engineer); and three young women, Rita Stumpp, Anita Gruenwald and Eom Young-sun. The six adults worked for the Dutch-based World Wide Services Foundation, an aid organization that places medical personnel in hospitals of developing countries. Early reports indicated that these Christians were likely targeted because they were suspected of being involved in evangelistic work.
Just days after the abduction, the bodies of Rita, Anita and Eom were found in the Noshour Valley region -- a known hotbed of al-Qaeda activity. Thankfully, Lydia and Anna were freed in May of 2010, and have since been living with relatives in Germany. Following the release of the two young girls, many months passed with no news regarding their parents and younger brother, or of the British believer. Sadly, the German Ministry for Foreign Affairs recently advised that reliable intelligence confirms that Johannes, Sabine and little Simon are no longer alive. The situation surrounding Tony remains unclear. (To read our past updates regarding the abducted foreigners, visit this page.)
With thankfulness for your prayerful concern in regards to these kidnapped believers, let us bring this difficult situation to our loving and gracious God. In particular, pray that He will fill the hearts of those who are grieving over the loss of the deceased Christians with His perfect peace and rest -- knowing that their loved ones are not suffering but rather experiencing life to the fullest with our Resurrected Saviour. Pray especially that the two surviving children, Lydia and Anna, will be surrounded by His love and the support of caring relatives and other concerned Christians. Please also intercede on behalf of Tony, asking God to make known what has become of this dear brother in Christ, while bringing needed ministry and peace to His loved ones as well.