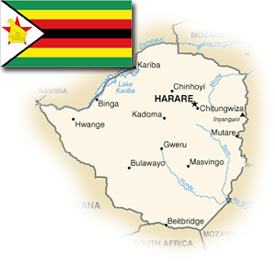 The entire leadership of the Zimbabwe Christian Alliance (ZCA) and some journalists were arrested during a meeting in Kadoma on January 26. The alliance is involved in a number of measures to support those suffering from the on-going political and economic crisis in Zimbabwe and to work toward a resolution.
At least 1000 people gathered in and around a church building to pray for Zimbabwe when armed riot police raided the meeting and arrested the leaders. Eight senior leaders were charged with holding an illegal political meeting. During interrogation, they were accused of working to overthrow President Robert Mugabe. After being interrogated throughout the weekend, the eight were arraigned on January 29 and released on Z$100,000 ($472 CAD) bail each. They are scheduled to appear in court on March 5. Those facing charges are Jonah Gokova, Pastor Raymond Motsi, Pius Wakatama, Pastor Ancelemon Magaya, Pastor Watson Mugabe, Pastor Zvizai Chiponda, Lawrence Berejina and Gerald Mubaiwa.
An audio interview of Pastor Motsi by Voice of America is available on the VOMC website.
Click here to listen.
Pray that those charged will be acquitted. Thank God that they were released. Ask God to encourage the leadership of ZCA to faithfully carry out the task He has given them (1 Peter 5:1-4). Pray that Christians will be able to be a help and a demonstration of God's love to those suffering in Zimbabwe.