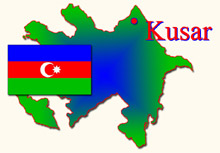 Police raided a Christian festival and detained four believers in the town of Kusar, Azerbaijan on October 31. Approximately 80 members of a Baptist church were gathered in a believer's home for a celebration thanking God for the harvest when police arrived and began to interfere with the activities. The officials turned off the gas and electricity in order to prevent the believers from preparing their meal. They also photographed and videotaped the service and recorded the names of those present.
Four men -- Ilgar Mamedov (the homeowner), Zalib Ibrahimov, Rauf Gurbanov and Akif Babaev -- were forced to leave with the officers. Seven hours later, the four believers were secretly taken to a local court where they were tried with charges of "insulting people." In a closed hearing, they were each given five-day prison terms. The following morning, a church member who went to the police station to check on the men was told that another trial would be held in five days' time. He also learned that authorities were threatening to give Zalib a 12-year prison sentence.
Ask God to equip these four men through His grace to stand firm in their faith as they suffer. Pray that they will be released and without further legal penalty. Pray that officials will repent of their unjust actions. Pray that a spirit of joy and trust will govern the hearts of Azeri Christians as they serve the Lord amid opposition.
To learn more about the persecuted Church in Azerbaijan, visit the Azerbaijan Country Report.