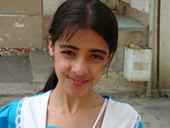 Approximately 50 children were questioned
during a recent church raid in Azerbaijan
Police in Azerbaijan have denied the recent raiding of a church, even though at least 20 police officers, including the police chief and the local head of the State Committee for Work with Religious Organizations, participated.
During the raid, police first searched for foreigners. After finding none present, they began questioning about 50 children to make sure they had permission from both parents to be there. At least one congregation member has been fined without being tried by a court.
A harsh Religion Law was adopted in the country in 2009 with new offenses and punishments that many in the international community say are vague and dangerous. There are limitations on conscientious objection, the distribution of literature, and the criticism of other religions.
Please pray that Christian brothers and sisters in Azerbaijan will rely on the spirit of power provided to them through Jesus, and that they will be bold and loving despite the adversity they face (2 Timothy 1:7-12). Pray that God will enable Christian parents in Azerbaijan to demonstrate an unwavering commitment to Christ so that their children will be encouraged to walk closely with the Lord as they grow up (Deuteronomy 11:18-20).
For more on the trials Christians face in Azerbaijan, visit the Azerbaijan Country Report.