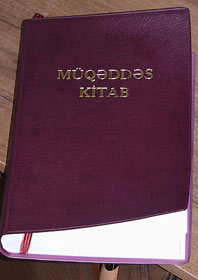 The Old Testament found within this
Azeri Bible is listed among the
banned books in Azerbaijan.
In early May, the Old Testament was included on a list of banned religious books in the country. State police and "expert analysts" reportedly produced the list which was published by a news agency. Along with the Old Testament, another 27 titles on the list were described as "some of the most radical and dangerous" religious books.
Many believers are concerned that police in some areas of the country may use the list of banned books as a reason to conduct raids and confiscate Bibles and other Christian literature. Religious literature is already tightly controlled in Azerbaijan, and those caught with such "illegal" materials often face criminal charges. (For more information on some of the tight restrictions, visit our website.)
"We need to pray to God for wisdom as to how to respond to this ban on the Holy Scriptures in Azerbaijan," one of the country's Christian citizens shared.
Acknowledging that the Word of God lights the path for all believers, pray that Christians in Azerbaijan will continue to read and study both the Old and New Testaments despite this ban (Psalm 119:105). May God continue to open doors so that His Holy Scriptures will find their way into the hands of those hungry for His Truth. Please also pray that He will give an extra measure of wisdom to the church leaders at this time as they discern how to best proceed in leading those entrusted to their spiritual care.
For more information on the trials our Christian family faces in Azerbaijan, please visit the Azerbaijan Country Report.