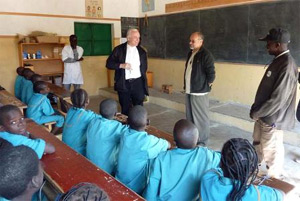 Giampaolo Marta and Gianantonio Allegri in a classroom.
Photo: Vicenza Diocese via World Watch Monitor
Three Christians who were kidnapped by gunmen in April have been released unharmed. Gilberte Bussiere, a Canadian nun in her mid-70s, and two priests from Italy, Giampaolo Marta and Gianantonio Allegri, were seized at their parish in Tchéré by men suspected to belong to the Islamic militant group Boko Haram. (To learn more about the kidnapping, click here.)
Gilberte, originally from Quebec, has been living in Cameroon since 1979. While serving overseas, she worked as a director of a school and, most recently, as an educational consultant. According to one of her friends, Gilberte was especially concerned over the need to provide education for girls. On the other hand, the humanitarian work of Giampaolo and Gianantonio included improving the country's water supplies and educating its citizens in an effort to combat the spread of HIV/AIDS.
Thank the Lord that these believers have been released and returned to their loved ones! Pray that God will continue to grant them physical and emotional healing. May the seeds that were surely sown during their time of confinement take root in the hearts of the militants, ultimately leading many members of the Boko Haram to salvation in Jesus. Finally, pray that others who've been victimized and kidnapped by the same militant group will also soon be released, including the hundreds of girls abducted in Nigeria.
For a short video clip about the atrocities committed by Boko Haram, check out this page.