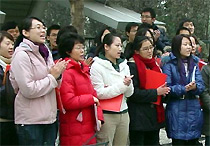 Shouwang Church members
continue to face opposition.
Photo: ChinaAid
Members of the Shouwang Church in Beijing, China have been arrested and repeatedly harassed by authorities for their attempt to hold outdoor Sunday worship in recent months (click here for more information). In the latest such incident, 15 Christians were detained for gathering at the church's designated outdoor worship site on June 26. Several of the detained believers were visiting from other churches, including one woman who had traveled from Henan province to show her support. Police had reportedly stopped two other Christian women from another house church from leaving their home to visit the worship site. By 9:00 p.m. that evening, all of the believers were released.
In another development, pastors belonging to China's official Three-Self Patriotic Movement recently sought out Shouwang Church members for long sessions of "pastoral counseling" on the government's behalf. Three-Self representatives were also on hand a few weeks ago when police interrogated detained members of the Shouwang Church about the theological basis for the church's actions.
Thank the Lord for the faithful witness of these Christians. Pray that the Shouwang Church members will continue to look to God to keep them strong and vigorous in spirit. Pray they may be a challenging example of love and hope to those who oppose them. Pray that Christ will continue to equip Chinese Christians to follow His example of faithfulness amid persecution (2 Corinthians 1:8-9)
You can learn more about Chinese Christians standing firm in their faith at great cost at the China Country Report.