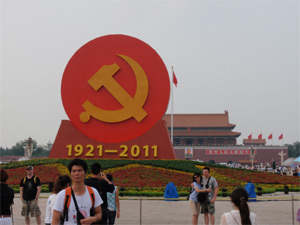 The Chinese Communist Party
brings in more restrictions with
its new National Security Law.
Photo: Haha169 (cc)
Since the Chinese Communist Party (CCP) passed its new National Security Law on July 1st, watchdog groups have warned that it can limit the freedoms of Christians and human rights lawyers in mainland China and neighbouring countries -- including Hong Kong, Macau and Taiwan. China Aid warns that the laws use "intentionally vague" wording to target "perceived threats to national security," including "foreign influences" and those they deem as "cults."
A major concern is the increased imprisonment of Christians and human rights lawyers. Within a 10-day period after the law was enacted, more than 230 prominent human rights lawyers were harassed and imprisoned. Human Rights Watch stated that the risk of torture is high. It is understood that many Christian leaders are still in detention, including Pastor Zhang Shaojie, church leader Ms. Yang Rongli, and house church leader Alimujiang Yimiti. These Christians and others had been arrested for protesting the illegal acquisition of church land, denouncing the "cult" label, and their refusal to remove crosses from church premises. For more information and previous reports on persecution in China, go to our China Country Report.
On July 14th, amid the massive nationwide crackdown on human rights lawyers, a group of Christian attorneys announced the formation of the "Lawyers for Protection of the Cross" group. These lawyers have declared their willingness to pay any price for their beliefs.
Let's uphold these Christian lawyers who are willing to take a stand for their convictions and the cause of true justice, regardless of the cost. May they be granted wisdom, strength and grace from on high as they present their cases before mere human authorities, trusting in God's ultimate sovereignty over all and His power to intervene. Also remember to lift up the many other Christians in China who are affected by this new law, asking that they be encouraged to continue trusting the Lord during such challenging times. In fact, may they be mightily used to accomplish His higher purposes by bringing about justice in the judicial and penal systems and, more importantly, furthering the cause of Christ!