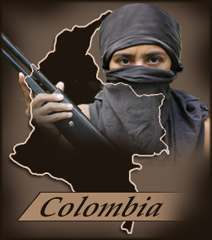 Colombian Christians are on high alert as intense and deadly violence continues in the country. On May 12, a bomb exploded in Puerto Lleras, killing several policemen and injuring bystanders. For several months, members of Colombia's main Marxist rebel group, the Revolutionary Armed Forces of Colombia (FARC), have been openly killing individuals in town streets and burning buses throughout the region. FARC guerillas have also been conducting an internal purge, reportedly killing many of their own men and accusing them of being traitors to the communist cause. It is suspected that many of those killed were secret Christians. "In all our years in Colombia, we have never seen it this unstable," said a VOM contact. "Yet we believe that this is also the most opportune time that we have ever seen for the gospel."
Pray for those working to supply Bibles to Colombian believers in this region, as the need is reportedly very great. Pray the various other ministry efforts of Christian workers in Colombia will be effective. Ask God to guide and sustain new believers as they serve Him in a climate of intense and ongoing violence. Pray those who persecute Christians in Colombia will repent and embrace Christ as Lord.
To learn more about the persecution of Christians in Colombia, visit the Colombia Country Report.