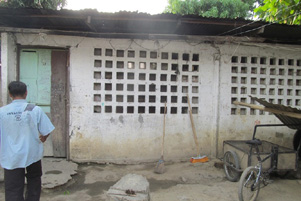 Pastor Leider Molina, 24, had just finished preaching at his church in Caucasia (northwest Colombia) on Friday, February 9th. As he stepped out of the building, he was shot with five bullets. The young man was known as a passionate preacher and active youth leader in his church and city.
The region has suffered an escalation of violence in recent months as armed groups fight for control of drug trafficking routes. The various rebel factions involved all consider the Christian church an enemy because the Gospel leads young people away from the violence and illegal activities.
According to sources in the area, some Christians have fled with their families, while others who are hoping for government intervention opted to remain -- even in the face of danger. Despite death threats and violence, church leaders are continuing with their ministry work in the area.
May the Gospel of peace continue to reach many Colombians in this volatile area, drawing them to Christ and greatly impacting their lives. Ask God to also provide His comforting peace to Pastor Molina's family, friends and congregation members in their time of grief and suffering, using the example and passion demonstrated through the young church leader's life to inspire them to stand firmly for Jesus. Pray that the authorities will be able to assist the Christian community with the peace process, bringing needed relief throughout the country.