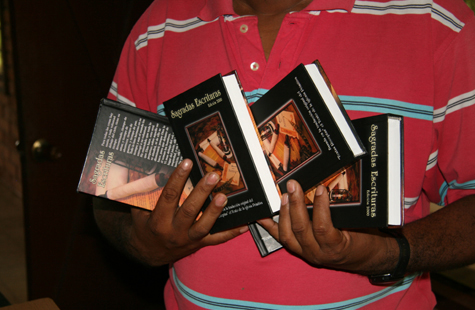 Pray that God's Word and other Christian material
will reach all the regions of Colombia.
Members of the notorious guerrilla group Fuerzas Armadas Revolucionarias de Colombia (FARC) recently prevented a VOM evangelist, "Rolo," from entering La Macarena region in Colombia with radios, Bibles and Christian books. The Marxist-Leninist revolutionary guerrilla organization has been a significant contributor to violence and volatility in the region. A VOM worker in the area reported that members of FARC are closing the churches and burning the buses of those attempting to enter the area.
Leftist guerrillas and right-wing paramilitary groups in the country are both acting as lawless gangs raising funds with drug trafficking and ransom kidnapping. Despite the upheaval and political violence, however, the Church is flourishing. While there were about 15,000 evangelical Christians in Colombia in 1933, by last year, they numbered between 3.5 and 5 million with some churches growing 1,000-fold over the last two decades.
Please pray that Rolo's evangelistic efforts will not be thwarted any longer and that Christians in the region will not be impeded in sharing the gospel message. Pray that the Church will continue to thrive despite the efforts to keep it from doing so.
For more information on the struggles of believers in Colombia, please visit the Colombia Country Report.