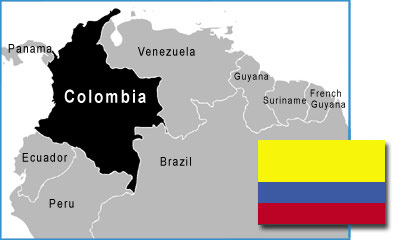 Greg Musselman of VOM Canada, who has recently returned from Colombia, reports that a bomb blast took place near the home of one of our in-country ministry partners, causing terrible destruction in the neighbouring area. This former FARC commander-turned-evangelist is not sure if the blast was meant as a warning for him to cease his Christian activity.
According to a recent news release posted by the "Colombia Report," this particular bombing incident, which took place in the country's Cauca state, has caused injuries to at least nine victims, including children. Police commander Ricardo Augusto Alarcon states that the explosion has also left a six-foot deep hole in the road and damaged at least 10 houses. The police are blaming Colombia's largest rebel group, FARC, for the attack, specifically the group's 6th Front, which operates in the area and controls much of the marijuana production in Cauca. (Previous persecution reports can be accessed at the Colombia Country Report.)
Although our dedicated ministry partner is well aware of the dangers he and his family are facing while spreading the message of God's love, such acts of violence and terrorism will not deter him from continuing the work of the ministry. It's reassuring to know that even in the midst of such tragedies, the Lord's compassion and concern can be demonstrated in tangible ways by reaching out to those in need.
Ask the Lord to intervene in Colombia's troublesome areas where different factions of the FARC terrorist group are threatening the safety, well-being and peace of the country's many innocent citizens. This includes all who are vulnerable, such as the elderly, children and persecuted Christians who aren't retaliating through violence. May these fellow believers be mindful that God is their Protector, Saviour and Deliverer: "The Lord is my rock and my fortress and my deliverer; my God, my strength, in whom I will trust; my shield and the horn of my salvation, my stronghold. I will call upon the Lord, who is worthy to be praised; so shall I be saved from my enemies" (Psalm 18:2-3).