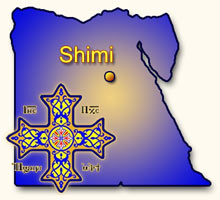 On August 13, Sheikh Tobah, imam of the village of Shimi, used Friday prayers to incite local Muslims to wage jihad against the local Coptic Christian community. Within hours an Islamic hard-liner named Mohamed Ali Almstaui had attacked a local Copt, Maher Amin, who was washing his taxi. That evening Mohamed led a mob of some 20 Muslims against the Amin family home. When the security forces arrived, they arrested the Christians, ignoring their injuries, so they could pressure them to accept "reconciliation." To uphold the Shariah provision that Christians may not testify against Muslims in court, the Egyptian government enforces "reconciliation" whereby Christians are forced to drop charges in exchange for Muslim assurances that the conflict has ended. However, less than 24 hours after "reconciliation" was brokered, Mohamed led a Muslim mob in another attack against Copts in their homes, on the streets and in their fields. The Copts are greatly distressed by their evident helplessness, knowing that in the absence of legal protection they are essentially without rights and are extremely vulnerable to further violence. Since the government started enforcing "reconciliation" in 2007, violent persecution has soared. (Sources: Assyrian International News Association, Australian Evangelical Alliance Religious Liberty Commission)
Please pray Christians in Egypt will preach the gospel with boldness in areas where incidents of persecution continue to increase (Acts 4:31). Pray the Lord will soften the hearts of those who currently oppose Him and His church.
You can learn more about the plight of Christians in Egypt at our Egypt Country Report.