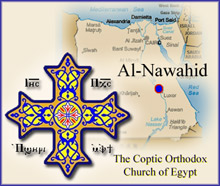 Christians in a small, southern Egyptian village are rebuilding their lives and homes after hundreds of Muslims rampaged through their community, burning houses and businesses, after rumours surfaced of a romantic relationship between a Christian and a Muslim. At least 23 homes and numerous businesses -- all Christian-owned -- were damaged or destroyed in the village of Al-Nawahid in Qena Governorate, 454 kilometres south of Cairo.
The attack started on the evening of November 15, when hundreds of Muslims poured onto the streets chanting "God is great!" while brandishing swords, knives and meat cleavers and shooting rifles in the air, said Ra'fat Samir, a human rights activist in Luxor. Five people were injured, including two 87-year-old men, who suffered head injuries. The rioters were responding to a rumour that a 20-year-old Coptic man, Hussam Naweil Attallah, was romantically involved with an 18-year-old Muslim woman. According to Samir, there is a feud for political control of Al-Nawahid going on among three families. Two of the families are inciting violence, using Christians in the area as pawns to depose the current mayor.
Please pray the Lord will heal and fully restore those who have been injured. Pray those in authority will have the wisdom and fortitude to do all they can to bring the perpetrators to justice and bring about peace. Pray the church will be able to respond to these attacks with grace and love.
You can read more about the persecution Christians face in Egypt by visiting the Egypt Country Report.