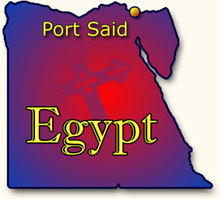 A convert from Islam to Christianity in Port Said, northeast Egypt, has been charged with "defaming Islam."
Ashraf Thabet, 45, came to faith in Christ in 2004. For years he questioned his Muslim beliefs and learned about the Christian faith through a Christian friend, as well as websites and other media. During these years, he shared his doubts about Islam and told others what he was learning about Jesus Christ.
Angry that he questioned Islam, Ashraf's Muslim friends arranged for him to meet with several Islamic leaders. During the meeting, the Islamic leaders also expressed anger toward him for his questions. They turned in Ashraf to state security officials, who interrogated him multiple times and told him he could not talk to anyone about his religious views.
One evening, police arrived at Ashraf's home, kicking down his front door and assaulting him in front of his crying wife and children. They confiscated his computer, books and CDs, and then took him to jail. He was repeatedly interrogated and spent time in solitary confinement. After 132 days in jail, Ashraf was informed of the "defamation of religion" charge against him. He also learned that Muslim leaders in his neighbourhood bribed his wife to divorce him and take away his 10-year-old daughter and 6-year-old son.
On August 21, Ashraf was released from prison, but the defamation charge remains against him with no indication of when the case will go to court. He is extremely concerned about re-arrest. He has only been able to see his children briefly, and his court battle has left him unable to work, unable to obtain a driver's license and without much savings. Ashraf also receives death threats on a regular basis. Most days, he is too fearful to venture outside his apartment.
Pray that Ashraf will draw strength from the Lord, entrusting his life to God's sovereign care during this difficult time. Pray that the charges against him will be dropped. Ask God to equip him to be a bold and gracious witness. Pray for his family, that they will be touched by the transforming love of Jesus.
To learn more about the trials of Egyptian Christians, go to the Egypt Country Report.