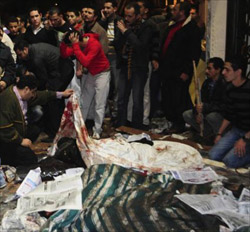 Survivors of New Year's Eve bombing
in Egypt examine bodies of victims
Photo from Watani
At least 21 people were killed and 90 wounded on January 1, when a bomb outside a church in Alexandria, Egypt, exploded as congregants were leaving a New Year's Eve Mass. The explosion ripped through the crowd shortly after midnight, leaving the entranceway to the Church of the Two Saints, a Coptic Orthodox congregation, covered with blood and severed body parts.
Witnesses reported a driver parked a car at the entrance of the church and then ran away seconds before it exploded. Government officials say they found remnants of the bomb, filled with nails and other makeshift shrapnel, at the site; they suspect an unidentified suicide bomber, rather than a car bombing.
No one has claimed responsibility for the bombing, but the attack comes two months after an Islamic group known as the Islamic State of Iraq issued a threat, stating "All Christian centres, organisations and institutions, leaders and followers are legitimate targets for the muhajedeen [Muslim fighters] wherever they can reach them."
Pray the Lord will give grace and strength to the injured and the loved ones of the dead. Pray they will keep their eyes on Jesus, persevere in the faith and not grow weary or lose heart. Pray those in authority will be spurred on to bring about justice and protection for Christians in Egypt.
To read more about the persecution of Christians in this area, visit the Egypt Country Report.