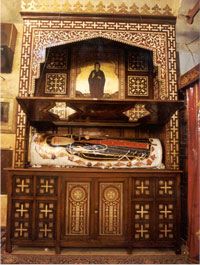 The tomb of St. Bishoy at the
Coptic Orthodox Anba Bishoy
Monastery in Egypt
One monk and six church workers were shot and wounded last week when the Egyptian Army attacked a Coptic Orthodox monastery in order to destroy a wall monks had built to defend their property from raiders. The attack with small arms, heavy machine guns and armoured personnel carriers happened February 23 at the Anba Bishoy Monastery in Wadi Al-Natroun, 110 kilometres north of Cairo. The soldiers used armoured personnel carriers to bulldoze the wall, sources said, as the monks sang a prayer in unison, declaring, "God is merciful."
As security diminished following the resignation of President Hosni Mubarak on February 11, the monastery came under increasing attacks from raiders and criminals set free from prisons. The military denied a request for protection from the monks, who then built a brick wall with a metal gate to control access. The army claimed the monastery had not acquired the proper permits and issued a deadline for the wall to be torn down. The monks refused to demolish the wall, and the army moved in. At the time of writing, seven people remained in the Anglo American Hospital in Cairo, two of them in critical condition.
Pray these men will be healed and have their health fully restored. Pray the Lord will strengthen their faith and use their testimony as a witness to others. Pray the Lord will bring peace to Egypt. Pray the current unrest will bring about greater religious freedom and an opportunity to further spread the gospel.
Read more about trials facing Christians in Egypt at the Egypt Country Report.