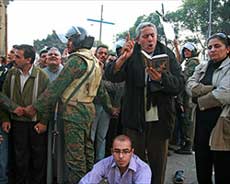 A protestor reads a devotional at a demonstration
in Cairo against the Sool church attack.
Photo from Compass Direct
On March 4 and 5, a Muslim mob in a village south of Cairo attacked a church building and burned it down, almost killing the parish priest. The attack came after a local imam, Sheik Ahmed Abu Al-Dahab, issued a call to "Kill all the Christians." The attack started on Friday evening in Sool (35 kilometres from Cairo), and lasted through most of Saturday. A parish priest, who narrowly escaped death in the fire, said the clamour of the Church of the Two Martyrs St. George and St. Mina being torn apart sounded like "hatred." After demolishing the church, the group of Muslims held prayers at the site and began collecting money to build a mosque where the church building once stood, said the assistant bishop of Giza, Rev. Balamoun Youaqeem.
The attack was in response to the rumour of an affair between a Muslim and a Copt. Earlier this month, Sool villagers accused a Muslim woman and a Coptic man, both married, of being involved with each other. Because of the attack, Copts in Sool fled to adjacent villages. The women who remained in the village are now being sexually assaulted, said Rev. Youaqeem, who is receiving phone calls from area women begging for help.
Pray for calm and peace in Egypt. Pray the authorities will do everything possible to protect Christians. Pray for the women who have been assaulted. Pray the gospel will spread throughout Egypt and many Muslims will come to know Christ.
Find out more about the persecution of Christians in Egypt at the Egypt Country Report.