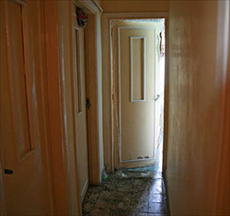 Maher El-Gohary and his daughter finally found
a doorway out of their life of hiding in Egypt,
where they lived in this humble apartment
– but they still feel trapped.
Photo Courtesy Compass Direct News
An Egyptian father and daughter who have been in hiding for two-and-a-half years after converting from Islam to Christianity (click here for more) recently fled the country. In February, Maher El-Gohary (58) and his daughter, Dina Mo'otahssem (17), flew from Cairo to Syria. After contact with a U.S. organization that concentrates on religious freedom, El-Gohary expected he would quickly be able to obtain a visa to the United States, where his wife lives. He tried for over a week, however, and was not able to make any headway. He then went to a U.N. office in Syria seeking assistance, and an appointment was scheduled for late April at last report.
Although El-Gohary and Dina do not live under the same type of threats as they did in Egypt, they still spend much of their time trapped between the four walls of their apartment because Syria is a country where converts to Christianity from Islam are persecuted. They are also struggling for basic necessities due to El-Gohary's lack of income. "I feel like we've stepped out of a prison cell and into a fire," El-Gohary said.
Even in this time of struggle, he acknowledges God's enduring care. "Without God's love, we would have been dead by now," he said.
Thank the Lord for the ways in which he has provided for El-Gohary and Dina. Pray that they will continue to rely on His strength and not on their own (2 Corinthians 1:8-9). Pray all Egyptian converts from Islam will be bold and wise witnesses for Christ.
You can learn more about the opposition facing Egyptian believers at the Egypt Country Report.