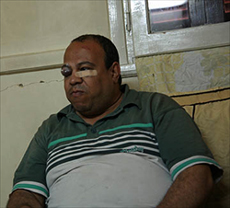 The Islamic attack on St. Mina Church in Cairo sent
a piece of glass into the eye of Ramses Roushdy, 43
Photo: Compass Direct


At least 12 people were killed and more than 200 wounded when members of a conservative Muslim movement attacked two churches and surrounding Christian-owned homes and businesses in Cairo on May 7. Salifis, a hard-line Islamic movement with extremist tendencies, set fire to one of the two church buildings, leaving most of it gutted. The attack in the neighbourhood of Imbaba was one of many recent assaults on Coptic Christians by members of the Salafist movement.
The attack on St. Mina Church came after a rumour spread that a Coptic woman who allegedly converted to Islam was being held in the church against her will. The mob also entered the Virgin Mary Church, setting it ablaze. A few men were in the building when it was attacked. All escaped except for one, Salah Aziz, the church attendant, who died in the fire.
Pray the Lord will bring comfort to those mourning the loss of loved ones and healing to those who were injured. Pray for religious and political stability in this nation. Pray the Lord uses this incident of violence to bring about great change for the Christians in Egypt.
To find out more about the suffering of believers in Egypt visit the Egypt Country Report.