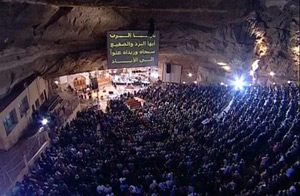 Tens of thousands of Christians
recently gathered for prayer in Egypt.
Photo: Dr. Wafik Wahba
On November 11, an estimated 70,000 Christians gathered for worship and prayer at St. Simon Church (also called the Cave church) in Cairo, Egypt, while millions more around the globe watched the live broadcast on TV and the Internet. From 6 p.m. to 6 a.m. the following morning, Christians from varying denominations focused their prayers on repenting, forgiving, and dedicating themselves to live consecrated lives.
The prayer event, the largest of its kind in Egypt's modern history, comes during a tumultuous time for the country. In February, the former president was forced out of office and Egyptians have since faced continuing chaos, brutality, and frustration. The culmination of this sense of despair reached an unprecedented level on October 9, when at least 26 people were killed and hundreds more were injured when army personnel attacked a large gathering of predominately Christian protestors (for more, click here).
Elections for the next house of parliament are set to begin on November 28. The elected parliament will be entrusted with the task of drafting a new constitution and establishing a new government. There are currently 25 parties competing for the nearly 500 seats in parliament, contributing to the complexity of Egypt's election process. These parties vary from Islamic fundamentalists to Marxists. Christians and Muslims alike worry that their dreams of a free and democratic country that respects religious freedom will be undermined by Islamic extremism.
Despite the unrest and uncertainty, Christians in Egypt are looking to the Lord for protection and guidance. A prayer movement has been growing for the past few years and is now spreading to churches across the country.
Pray that Christians in Egypt will place their hope and trust in Jesus Christ, who has been given all authority in heaven and on earth (Matthew 28:18). Ask the Lord to bless and protect His children in Egypt. Pray for continued unity among believers. Pray for peaceful and just elections.
To learn more about persecution in Egypt, go to the Egypt Country Report.