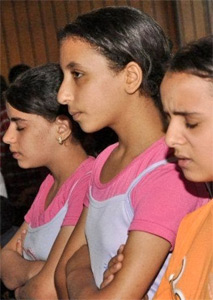 Christian girls like these are often at risk of
being kidnapped because of their faith.
Eman Morco Saroufim, a 39-year-old Christian mother of five children, was kidnapped from her village in Menia on September 3rd by an armed Muslim man.
Officials initially denied that Eman had been kidnapped, reporting that she had willingly left her family and converted to Islam. Thankfully, Eman was able to escape her captor on September 26th and has since publicly stated that she is a Christian and will never convert to Islam. However, she and her children remain under threat, as her abductor has threatened to kidnap her children if she does not return to him.
Sadly, this assault on Eman and her family is hardly an isolated case. Christian women and girls are often the targets of kidnapping and forced conversion to Islam. (For more information on such attacks, please visit this page.)
While thanking the Lord for providing a way for Eman to escape her kidnapper, let us pray that our gracious God will continue to protect this victimized mother and her five children. May He heal Eman from any physical or emotional wounds resulting from her abduction and captivity. Please also pray that the officials involved in this case will pursue justice for our dear sister in Christ, working to ensure that the perpetrator is fairly punished for his crime. Additionally, pray that Eman's kidnapper will repent of his misdeeds and ultimately come to a saving faith through Jesus Christ. Mindful that there are many other girls and women in Egypt who have been the targets of similar assaults, let us ask the Lord to supernaturally sustain them and somehow enable them to return safely to their homes and families.