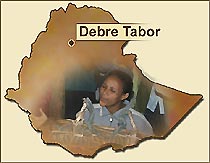 Two Ethiopian Christians who were sentenced to prison in July on false charges of offering money and gifts to entice people to convert to Christianity (click here for more details) were released on October 23, according to an October 28 report from Compass Direct. Temesgen Alemayehu and Tigist Welde Amanuel's six-month prison sentences had been reduced to fines of 500 birr (approximately $40 CAD) several weeks earlier, but before they could be set free they were accused by fellow inmates of insulting the Ethiopian Orthodox Church while in prison. They were sent back to detention, where Alemayehu was reportedly denied medical treatment for a kidney infection.
A judge later rejected the new charges brought against them as the evidence was found to be contradictory. Upon their release, Amanuel stated, "Through prayers and God's intervention, we are now released from prison. We thank those who prayed on our behalf."
Click here to learn more about the ongoing opposition of believers in Ethiopia.