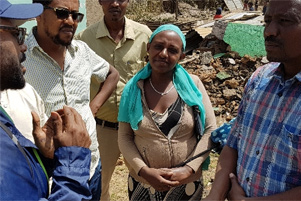 Earlier this month, we reported on a devastating attack on the churches of Alaba Kulito, a town located in southern Ethiopia (see this report). Following the attack, a support representative travelled to the community on February 21st to gain more details and determine what could be done to provide necessary assistance.
In the attack, ten churches from eight different denominations were damaged, affecting more than 6,000 Christians. According to witnesses, the perpetrators specifically targeted the churches, and not individual members. One church building was completely destroyed because of its remote location. The others were not set on fire, as this could have put neighbouring properties owned by Muslims at risk. For those nine churches, the contents were removed before being set on fire.
Local police were present during the attacks but did not intervene. It was only when state police finally arrived that order was restored. According to sources, a number of arrests have been made and a police guard has been assigned to every church in town.
Despite the tremendous destruction and loss, each of the congregations met for worship the following Sunday. Some members, however, stayed away out of fear. Emergency finances have been provided to assist the injured with medical costs, and to aid the affected congregations with their restoration efforts. Plans to rebuild the destroyed church and replace needed Bibles and other damaged items are ongoing.
Remember to pray for each member of these affected churches. May they receive the resources required to rebuild their places of worship and the courage to stand firm in their faith, despite this terrible loss. Ask that God's Spirit will not only move mightily in the lives of these believers but also within the hearts of other members in their communities so there will be a spirit of love and unity between them all.