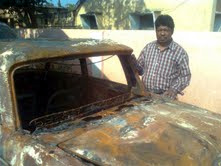 Brother Suranjan Naik with his vehicle
Photo from GCIC
Several Christians were able to celebrate Christmas in Orissa state, India, this past weekend. In Bodimunda village, Christians reportedly celebrated Christmas together for the first time in three years. In Barakahma village, police kept watch as approximately 2,000 prayed together. The peaceful celebrations came as a relief for many, as there had been fear that the holidays could lead to a flare-up in anti-Christian violence, especially as the state has been the site of intense attacks in recent years (click here to learn more). Fear of attacks prevented Christians in remote villages from holding Christmas celebrations.
Christmas weekend was not entirely without incident in Orissa, as a believer's vehicle was set on fire in Phulbani on December 25. Bro Suranjan Naik and his wife, a nurse, were staying on campus at the government hospital. They were away attending a Christian celebration when their vehicle was set ablaze.
Thank the Lord that many brothers and sisters in Orissa were able to gather and joyously celebrate the birth of their Saviour, Jesus Christ. Pray a spirit of trust in the Lord, not fear, will govern the hearts and minds of believers in India. Pray those seeking to harm Christians in India because of their faith will repent of their ways and come to know Christ as Lord.
To find out more about the trials of Christians in India, go to the India Country Report.