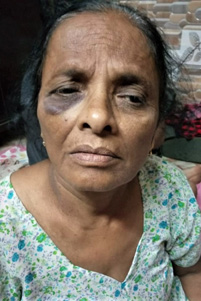 A retired pastor and his family in northern India have been badly beaten and forced into hiding after police recently sided with their attackers. Patram Mangala helps with a Christian school in Sohna, Haryana state.
Patram and his wife were working in their front yard on September 22nd when a group of Hindu militants approached and began assaulting them. Patram was hit in the face with a spade. His wife sustained internal injuries, as well as a blow to her face. Their son Abhishek lost four front teeth and sustained injury to one eye, while their other son Raj received internal injuries.
When the family reported the assault to local police, the officers refused to register a complaint for nearly a week. The attackers filed counter charges, falsely claiming that Patram and his family damaged a Hindu temple and tried to take possession of temple land. One of those responsible for the attack, Anil Kumar, claims that the Christian family had attacked him.
According to Patram, problems began when some of the militants entered the school property in 2015 and erected a Hindu idol, laying claim to the land for the eventual building of a Hindu temple. The idol was removed and, despite threats and accusations, the court ultimately ruled in favour of the school.
Since this recent attack, family members have received death threats for reporting the assault to police, thus forcing them to go into hiding. For more incidents of persecution against Christians in India, go to our country report.
Pray for God's protection, intervention and healing on behalf of this assaulted family, and that they will be able to safely return to their home and ministry. Also intercede for the attackers, asking for the Holy Spirit to mightily work in their lives so that they may come to faith in the one true God. May His protection and blessing be upon the school and the ongoing ministry in the community.