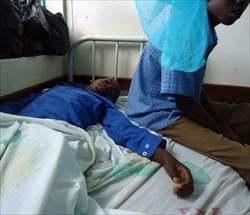 Samuel (on right) and Peter lost their
eight-year-old sister, Winnie Mwenda,
in an attack on their home.
Photo: Compass Direct News

On the night of November 5, suspected Islamic extremists with Somalia's al Shabaab militia threw a grenade into the home of Patrick Mutinda, an elder and church guard at an East Africa Pentecostal Church congregation outside Garissa, Kenya. Killed instantly were eight-year-old Winnie Mwenda Mutinda, the daughter of Patrick, and 25-year-old John Kikavu. Patrick's 12-year-old son, Samuel, suffered burns on his chest and leg, while his 10-year-old son, Peter, sustained burns on his hand and leg. The boys' grandmother, Rachael Kandu, was also severely burned. All three were in stable condition at press time.
An area pastor said a fellowship of church leaders met two days before the bomb attack and wrote a letter to authorities requesting police security for churches in Garissa, especially on Saturdays and Sundays. On November 6, the pastor received a threatening message on his mobile phone, stating, "Message from al Shabaab -- You must migrate [from] Garissa town within 48 hours or you see bomb blast taking your life and we know your house, Christians will see war. Don't take it so lightly. We are for your neck."
Al Shabaab activity near the Somali-Kenya border, including Garissa in northeast Kenya, has increased since Kenya began air strikes on al Shabaab-held territory in southern Somalia last month. The air strikes are in retaliation for the rebel group's kidnapping and murder of foreigners in Kenya.
Pray the Lord's protection will be upon these believers, may these latest threats come to nothing! Pray for complete healing for those who were injured. Pray that the Lord will comfort those who are grieving. Ask God to take away any fear and instead give the believers a spirit of power and love (2 Timothy 1:7).