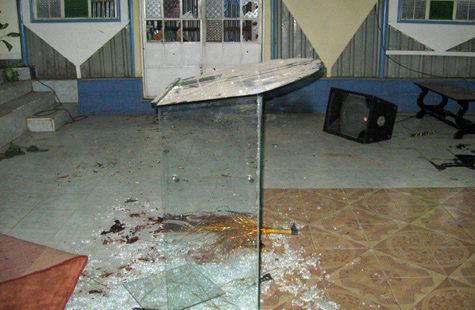 This church in Nairobi was damaged by a
grenade attack earlier this year.
Photo: Compass Direct News

Muslim rioters attacked five churches and killed two people, including a police officer, on August 28 in Mombasa, Kenya. The riots began after unknown gunmen killed Sheikh Aboud Rogo, a radical Muslim cleric.
The Islamic extremist group al Shabab, which supported the rioters, said in a message, "Muslims must take the matter into their own hands, stand united against the Kuffar [non-believers] and take all necessary measures to protect their religion, their honor, their property and their lives from the enemies of Islam."
Pray the Lord will bring rest and peace to Mombasa. Ask the Lord to comfort those who have lost loved ones. Pray that He will draw them close to Him and give them the grace they need to respond in a Christ-like manner. Pray that the perpetrators will come to repentance and into relationship with Christ.