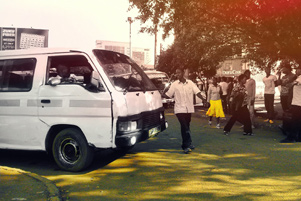 Two bus passengers were executed on September 14th when they failed to recite Muslim prayers. The men were travelling to the town of Garissa when their bus was pulled over by seven Al-Shabaab militants. The passengers were ordered to show ID and three non-locals were pulled from the bus for questioning.
Once outside the bus, the three men were ordered to repeat the Shahada (an Islamic prayer of faith), as well as seven verses from the first chapter of the Quran. One man did so and was allowed back on the bus. The other two men failed to repeat the creeds and were immediately executed.
One of the victims was Fredrick Ngui, a church worship leader from the settlement of Masalini. The other man, known only as Okoth, worked on the bus. After the killings, the attackers fled into the bush. Authorities have searched the area but have not been able to locate those responsible.
Al-Shabaab, an affiliate of al-Qaeda, has targeted Christians in Kenya and Somalia for years. In one of the most violent attacks, militants stormed a university campus in Garissa in April 2015. While targeting Christians in particular, they slaughtered 147 students. For more information on that attack, go to this report.
Remember the family and friends of those murdered in this horrific attack. Pray for emotional healing on behalf of the surviving passengers who witnessed these murders. May Christians in Kenya be empowered by the strength that comes from having faith in Christ, so they can continue reaching out to others of their East African nation.