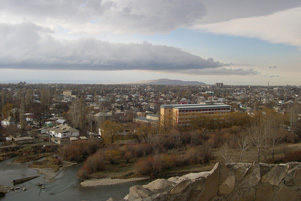 Three Baptist churches in the city of Taraz have been subjected to raids from anti-terrorism officers in recent weeks. Despite claiming "our laws don't ban praying," officials defend their punishment of those who meet for worship without state permission.
On February 10th, officers entered a home where a worship service was taking place. They filmed the worshippers and, at the end, demanded statements from some of the participants to explain why they were meeting without registration. Two brothers, Yakov and Viktor Fot, have been issued fines for their part in the unregistered meeting.
The following Sunday, February 17th, another worship service was raided. The attackers initially demanded statements from everyone in attendance, though they eventually only took statements from a few. The next day, Vitaly Ryzhkov was issued a fine and two others were given warnings.
A third church service faced similar action on March 3rd. Officers waited until the end of the service before demanding statements from everyone in attendance. After recording the statements, they took the pastor, Pyotr Skornyakov, along with a church member, to the police station where both were fined.
The Council of Churches Baptist has taken a position opposing state registration, which will also include the refusal of payment for fines handed down because of the exercise of their faith. The organization deems such fines as being "unjust" and, therefore, appeals will generally be filed against them. In the case of Yakov Fot, however, this pensioner did not appeal his fine. As one church member explains, "We don't pay the fines voluntarily, so they'll take the money from his pension." For more information on the challenges facing Christians who practise their faith in Kazakhstan, go to our country report.
Lift up to God's throne of grace the many churches in Kazakhstan that are facing opposition from governmental forces in the guise of taking security measures. Also remember in your prayers those who are encountering significant financial hardships due to these fines. Pray that these Christians will be a testimony to those opposing them and that the officers sent to monitor the worship services will hear the Word of God and come to faith in Christ.